Portfolio items make users on Clutch more likely to click the 'visit website' button on your profile.
Step 1: Log Into Clutch
Log into Clutch through your user account.
(If you're having trouble accessing your account, here's how to get help)
Step 2: Use the Main Navigation to Access Your Company's Portfolio
In the upper right-hand corner, scroll over your name/username. In the drop-down menu, select 'Portfolio.'

Step 3: Begin Adding Portfolio Items
Select the "add portfolio item" button.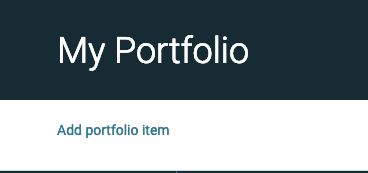 Upload an image or video.
Image Files Size Requirements
Less than 10 MB
jpg, jpeg, png, or gif
Upload as many images as you need for each project
Aspect Ratio Requirements
The container size for portfolio items display on Clutch is 269 x 188 px, and the natural size is 500 x 350px.
Step 4: Add a Title and Description
In the "Title" field, add the name of the client or project.
In the "Company Profile" field, enter your company name – exactly as it appears on your Clutch profile. (As you begin typing, suggestions will appear for you to select.)
In the "Description" field, describe the project in 1600 words or less.
We suggest including the following information:
Company X did Y Service to accomplish Z Goal
Describe the technology or service provided
Describe outcome of project using hard data. Use qualitative descriptions if hard data is not available.