July 2022 introduced more customizable options for profiles to deliver the branding and message you need to attract your ideal clients.
New Fields and Customization
From the "Edit profile" view of your Vendor Dashboard, you will find the following profile fields have been added:
Languages - connect with leads who are looking for specific communication
Timezones - connect with leads who will find you most accessible
Featured Review - attract better qualified leads through the words of a satisfied client
Social Media Links - connect your entire online presence
How to view Language and Timezone fields
Add the fields to your profile (how to).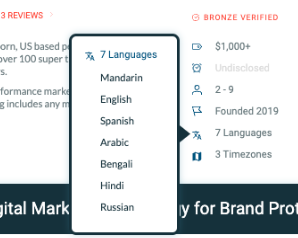 Once your changes are saved, navigate to your profile and hover over the field you want to see details for.
Featured Review
As a Clutch+ or Sponsorship customer, you can select your most compelling review that showcases your ideal client having an exceptional experience. It will appear on the top portion of your profile after you have saved your changes.
Find out how to set your Featured Review here.

Social Media Handles
You have the option to add your social media handles to your profile.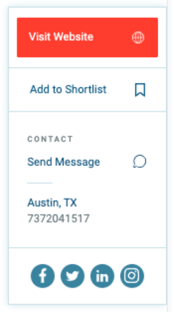 If you have these on your website, having them on your Clutch profile can help to further:
build trust and authority with your brand
show your brand personality
encourage engagement
increase your market reach and brand awareness