Follow these steps to set up conversion tracking in GA4 to track form submissions, calls, and more from referral sources like Clutch:
(Part 1)
Step 1: Log into Google Analytics: http://www.google.com/analytics/
Step 2: Select Admin (bottom left of screen)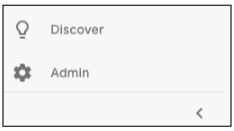 Step 3: Click 'Events' in the Property Column

Step 4: Click 'Create Event' and then click 'Create'
Step 5: Fill out the following fields based on what your company is looking to track
Custom event name field
Matching conditions section

Input the matching conditions using the 'Add Condition' button

Parameter configuration section

Click the 'Add Modification' button twice
Input the 'Value' for each parameter added (for example, this could be the source of the lead you're looking to track)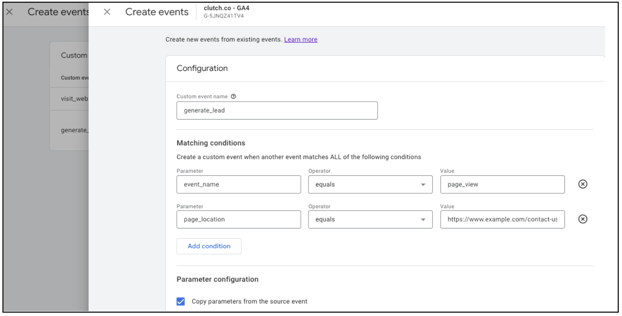 Step 6: Click 'Create'
---
Once the event has been created, it will need to be marked as a conversion.

Follow the steps below to indicate the event as a conversion.
(Part 2)
Step 1: Select Admin (bottom left of screen)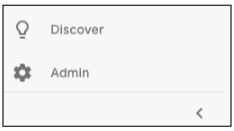 Step 2: Select 'Conversions' in the Property column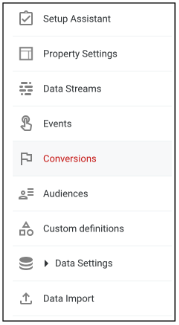 Step 3: Click 'New Conversion Event'
Step 4: Input the name of the new event
Step 5: Verify each conversion event after a few hours. All conversions should be found in the 'Conversions by Event' name card in the Realtime overview report.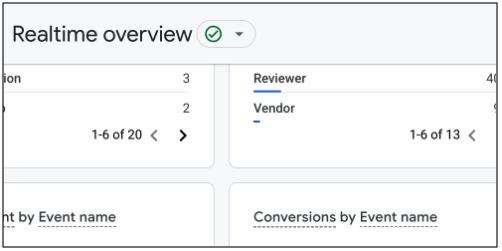 ---
Additional Resources
Note: Universal Analytics (UA) codes on Clutch profiles will no longer work as UA has been phased out. Service providers must use the GA4 tracking code associated with the website property. Once sponsorship stops - the tracking code will not capture demographic information in the customer's GA4 property.