You can locate UTM data in all three acquisition reports; Acquisition Overview, User Acquisition & Traffic Acquisition.
Locating Acquisition Reports
Navigate to Analytics and select Reports on the sidebar.
Next, select 'Acquisition' under Life Cycle to view all the reports.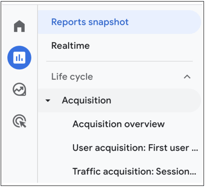 ---
Acquisition Overview
Follow the steps below to locate your UTM data in the Acquisition Overview report:
Step 1: Select 'Acquisition Overview'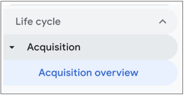 Step 2: All campaign data can be found in the 'Session Campaign' & the 'Session Medium' cards.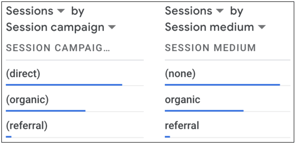 ---
User Acquisition
Follow the steps below to locate your UTM data in the User Acquisition report:
Step 1: Select 'User Acquisition'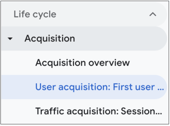 Step 2: Click on the dropdown above the first report column

Step 3: Select 'First user campaign'
---
Traffic Acquisition
Follow the steps below to locate your UTM data in the Traffic Acquisition report:
Step 1: Select 'Traffic Acquisition'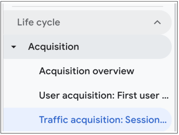 Step 2: Click on the dropdown above the first report

Step 3: Select 'Session Campaign'