Step 1: Log Into Clutch
Log into Clutch through your user account.
(If you're having trouble accessing your account, here's how to get help)
Step 2: Navigate to Your Vendor Dashboard
In the upper right-hand corner, scroll over your name/username. In the drop-down menu, select 'Vendor Dashboard.'
Step 3: Navigate To The Industry Recognitions Tab of Your Vendor Dashboard
Click 'Industry Recognitions' at the top of your vendor dashboard.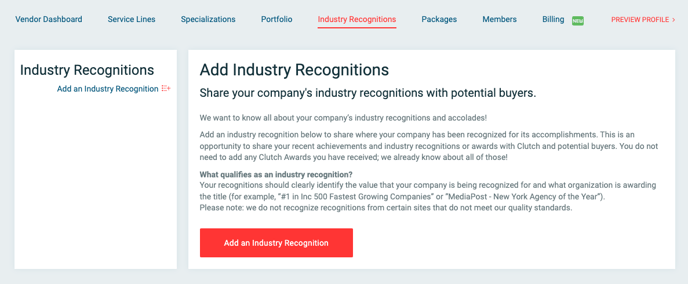 Step 4: Click Add a New Industry Recognition

You'll be asked to fill in the industry recognition title and the website associated. You must add the link to the industry recognition directly from the website of the organization that gave out the recognition.
These industry recognitions can range from a city or regional to internationally recognized recognitions. Some examples of the types of industry recognitions Clutch is looking for are:
"#110 in Inc 500 Fastest Growing Companies"
"MediaPost - New York Agency of the Year"
"Best Retail Search Marketing Initiative 2021 – Search Engine Land"
"10 Businesses to Watch 2020 - Douglas Magazine"